Celebrating 10 Years for Our Office Defending Christians in Pakistan
The ACLJ's affiliate office in Pakistan recently celebrated its 10th anniversary defending religious freedom with clients, supporters, and staff.
As you know, our European counterpart, the European Centre for Law and Justice (ECLJ), has an affiliated office in Pakistan, the Organization for Legal Aid (OLA). Since 2009, we have been supporting the OLA in representing clients in cases involving religious freedom and human rights abuses. We have represented clients in a variety of matters, including, inter alia, blasphemy, murder, torture, rape, trafficking, bonded labor, and illegal occupation of Christian churches and cemeteries. Thanks to the efforts of the OLA and ECLJ, many Christians have and will continue to have strong legal advocates to represent them.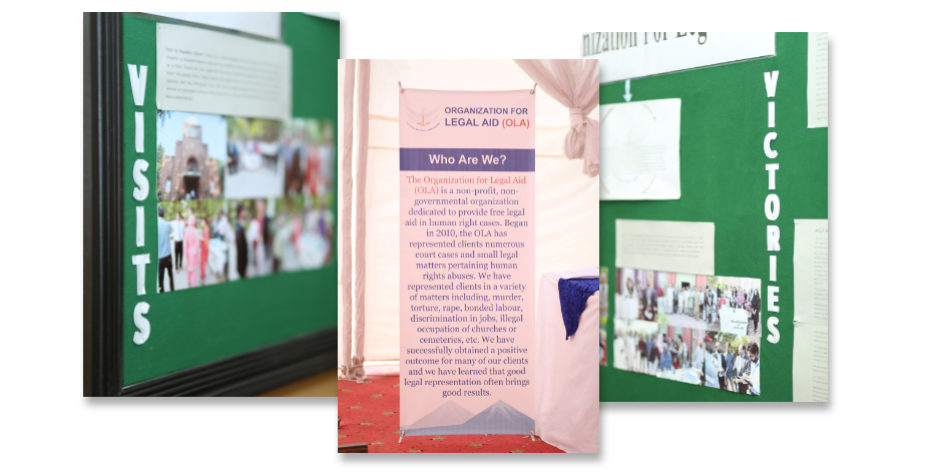 Nahir Javed, OLA's Legal Coordinator, greeted guests and invited Safeera Gill, OLA's Director of Operations, to moderate the event. Worship was led by a band of students from Forman Christian College, followed by a sermon by Pastor Phinehas Salamat. Khurram Shahzad Maan, OLA's Senior Counsel, paid a tribute to the clients, lauding their resilience.
I, too, delivered a message, reminding the audience to stay humble in the sight of God and to always remember His blessings. The message was followed by a cutting of the cake by the OLA team along with some of the clients' children.
After the cake cutting, clients were invited to stage to share their experiences. While we cannot discuss the details of every client's case, here are some stories we are able to share.
Pastor Karma Patras:
Pastor Patras was accused of blasphemy against Islam after a Muslim neighbor misunderstood Pastor Patras and thought he was comparing the Muslims festival of sacrifice to the sacrifice of Jesus. We represented Pastor Patras and facilitated a discussion between him and the Muslim neighbor. As a result, the neighbor clarified the pastor's message was not blasphemous and the case was dismissed for lack of evidence.
Parwasha:
We represented an innocent 8-year-old Christian girl who was assaulted, stripped naked, and left on the streets by her Muslim neighbors because her uncle had a relationship with the neighbor's daughter. We intervened after the police refused to take any action. We filed a petition in the court, requesting that the police be directed to take action. After hearing our argument, the court ordered the police to register a criminal complaint against the culprits.
Akram and Aslam Masih:
Two Christian brothers, Akram and Aslam, were forced into involuntary servitude at a brick kiln by Asad Mayo, the Muslim owner. When Akram and Aslam escaped from the kiln, Mayo abducted and detained their families. The OLA filed a habeas corpus petition in court and was able to reunite both brothers with their families and help set them free.
Naeem Nazir:
Naeem applied for a job as an office assistant in a government school, but was automatically appointed as janitor because of his Christian faith and was told to remain silent about the discriminatory appointment since it was his rightful position as a Christian. After a six-year legal battle, the court ordered the school to nullify the wrongful appointment and to appoint Naeem to the position he applied for or face suspension. Within two days of the order, Naeem was appointed as an office assistant.
Imatiaz Masih:
Imatiaz was falsely accused of killing his Muslim employer, but was acquitted by the court.
David Emanuel:
We represented David Emanuel after he rented his house to Shaheen, a Muslim woman, who manufactured a fake agreement to claim she had purchased the property. The OLA won Emanuel's case at both the trial and appellate level.
Shaheen also, together with her lover, killed Shaheen's husband and accused Emanuel and his two sons, Imatiaz David and Shahbaz David of the murder. While Emanuel died of natural causes, OLA helped acquit both of his sons.
Saleem Ghauri:
We represented Saleem after he was beaten for standing up to the land mafia and were able to obtain an out-of-court settlement.
Ilyasab Masih:
Ilyasab's son, Sharoon, was beaten to death by a Muslim classmate for his faith. During the trial, the victim's family agreed to blood-money restitution.
Samuel Masih:
The OLA is representing Samuel and his two brothers against their Muslim tenant after the tenant fraudulently transferred 12.5 acres of their land to his sons.
Tariq Masih:
The OLA represented Tariq's 5-year-old niece after she was raped by their 30-year-old Muslim neighbor who is currently serving life in prison.
Sufiyan Mushtaq:
Sufiyan's brother, Arslan, was murdered by the police after they dragged him into the street and beat him to death. OLA provided legal aid to the family, and the six policemen paid blood-money restitution.
Riasat Masih:
Riasat Masih's brother, Liaqat, was killed by police after they tortured him to obtain a false confession. The OLA filed a petition to have the body reexamined after the autopsy concluded that Liaqat died of a heart attack. In the end, the family settled out of court.
Catherine Bibi:
Catherine's three-year-old daughter was raped by a Muslim friend of the daughter's older brother. A court sentenced the defendant/friend to 25 years in prison for this heinous act.
We look forward to continuing this decade-long legacy of defending religious liberty in Pakistan and elsewhere. We can make a difference and you play a huge role in that. Thank you.