These days, parents are pretty well able to monitor what messaging their children see on television or online, so it's not surprising to see that the abortion industry is going "old school," and taking its abortion distortion to America's highways where there is little to no chance for "viewers" to screen its message.
Not that long ago, we told you about a series of billboards paid for by an Ohio abortion clinic that proclaimed abortion is "a blessing," "sacred," and "a family value" among other deeply contradictory and horrific deceptions.
An abortion clinic in Illinois recently followed suit and erected a billboard at the Illinois/Missouri border embellished with a flower and the message: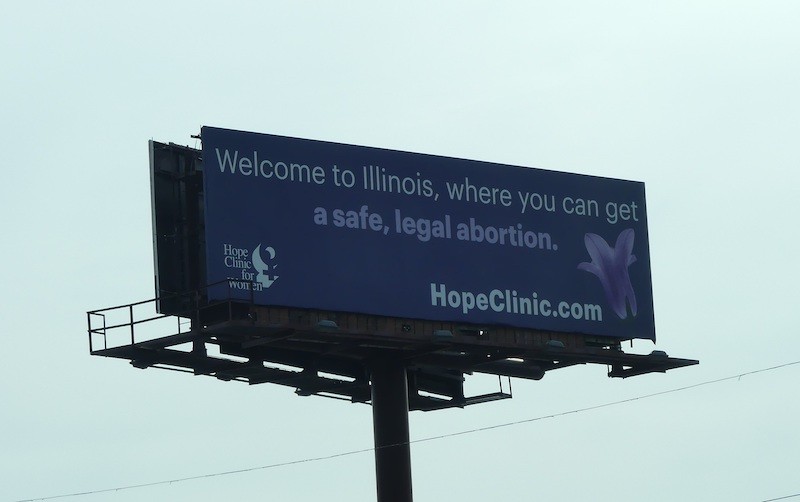 "Welcome to Illinois, where you can get a safe, legal abortion."
The Illinois abortion-provider reportedly put up the billboard in response to Missouri's increasingly pro-life stance.
The Hope Clinic for Women in Granite City, Il., changed the message on their Interstate 55 billboard in late March to put up a fight against the stricter reproductive health regulations of its neighboring state of Missouri, and to offer its residents reassurance that abortions remain available.
Earlier this year, Missouri took steps toward further protecting the lives of unborn children:
The Missouri House on Wednesday took steps to outlaw most abortions in the state should the U.S. Supreme Court overturn Roe v. Wade, an effort that's part of a broader Republican push amid renewed optimism that the high court might be more open to increased restrictions, and possibly an outright ban, on the procedure . . . . Among the restrictions is a ban on most abortions after a fetal heartbeat is detected, possibly as early as six weeks into a pregnancy.
Sadly, it is not at all surprising that pro-abortion advocates in Missouri's neighboring state, Illinois, are bragging about its pro-abortion laws. The state's recently elected pro-abortion Governor, J.B. Pritzker, stated "Illinois will be the most progressive state in the nation when it comes to standing up for women's reproductive rights."
On the 46th anniversary of Roe v. Wade, Pritzker signed an executive order to fully implement a pro-abortion bill that would remove language from a 43 year-old Illinois Abortion Law that states an "unborn child is a human being from the time of conception and is, therefore, a legal person for purposes of the unborn child's right to life."
It also removes a provision that prohibited Medicaid or State Employee Health Insurance from being used to cover abortion. In other words, Governor Pritzker wants the taxpayers of Illinois to pay for abortions – whether they like it or not.
Pro-abortion advocates are so proud of Illinois' anti-life stance , that an abortion clinic has been allowed to hijack Illinois' signature welcome to "The Land of Lincoln." Now, essentially, the first thing people visiting Illinois learn is that "Illinois proudly kills defenseless babies."
Illinois is also one of the more than 20 states that we told you joined Planned Parenthood in lawsuits to force taxpayers to continue funding the abortion giant.
It's nauseating that Illinois thinks abortion is something to boast about, let alone publicize for everyone – including young children – to see.
This billboard is just one example of how aggressive abortion advocates are in pushing their anti-life message, and in their efforts to shut down any pro-life laws or message. Pro-life workers and crisis pregnancy centers are under fire all over the country right now, as Planned Parenthood and other abortion advocates push lawmakers to silence them and try to shut them down for good.
In nearby Iowa, another state that shares borders with both Illinois and Missouri, we're representing two pro-life ministers who have been targeted for their pro-life activities with threats of enforcement of an Iowa criminal law against their speech that occurs within the vicinity of abortion clinics by those who might find their speech distressing. As we previously reported:
In response to their religious convictions, our clients have conducted their pro-life outreach outside of abortion clinics for many years. They speak to individuals as they enter and leave the clinics, preach scripture from the Bible, and distribute literature to those who walk by. They are careful to not prevent anyone from passing by on the sidewalk and use no amplification devices to share their messages.

Last year, in response to his outreach activities, Mr. Miano was arrested outside of the Planned Parenthood Iowa City Health Center when an individual inside the Center called the police and claimed Mr. Miano's pro-life and religious words were causing "distress" to those inside the building. Instead of allowing Mr. Miano to peaceably continue his activities – that are protected under the First Amendment – he was cited for disorderly conduct under Iowa Code § 723.4(2). This law makes it a misdemeanor to make a "loud and raucous noise in the vicinity of any residence or public building which causes unreasonable distress to the occupants thereof."
If this sort of manipulation of the law and disregard for the Constitution is permitted, it could soon be illegal to stand on public sidewalks across America and offer desperate, scared women a message of peace and hope, and an alternative to killing their baby. Yet, abortionists shamelessly advertise along our roads in pro-abortion states.
We cannot let that happen. Our legal team is preparing our oral argument in this case, which is scheduled for this week. We appreciate your prayers and support as our court date approaches to fight for pro-life workers, as well as prayers for the mothers who are carrying innocent babies who deserve to live.