Over the last several hours, citizens from dozens of nations have taken a stand in solidarity with Pastor Saeed Abedini – a U.S. citizen imprisoned in Iran – and other Iranians who have been imprisoned for their faith.
In the United States, I joined concerned citizens as they gathered in front of the Iranian Interest Section, hosted by Pakistani embassy in Washington D.C., today at noon to demonstrate their support for Pastor Saeed. Ever since the United States cut off diplomatic relations with Iran, the Pakistani embassy has served as the political intersection between our two governments. Today, the embassy served as a place to publically remember Pastor Saeed's wrongful imprisonment.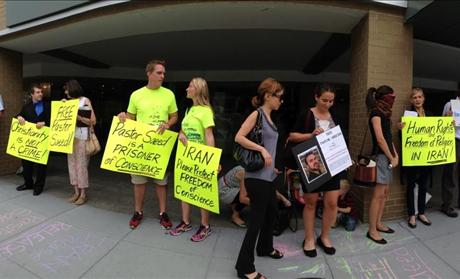 Rev. Pat Mahoney led the group of 20-25 people in a fervent prayer for Pastor Saeed, calling on God to heal his physical injuries, provide for his family's needs, and make a way for him to be released.
Attendees held up signs saying "release Pastor Saeed" as they stood in quiet support of religious freedom for all. Messages were drawn on the sidewalk with chalk, reminding passers-by that Pastor Saeed is "in prison for his faith" and calling on Iran to release him.
In addition to this event, there were peaceful demonstrations for Pastor Saeed and other prisoners of conscience conducted through out the world including Hungary, Sweden, Germany, Switzerland, South Korea, and other nations.
We have already received a report from Budapest, Hungary that 40-50 people peacefully protested in front of the Iranian embassy. They prayed, waved signs, and shared Pastor Saeed's story.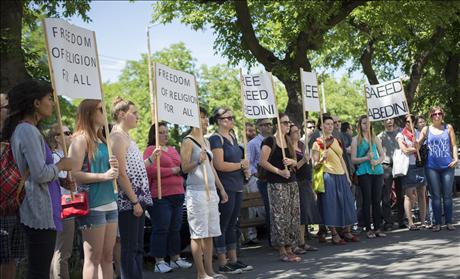 These events have been a tremendous success and take Pastor Saeed's case directly to Iranian officials. Iran now knows the world is watching, demanding Saeed's freedom and the end of human rights abuses.
To stand with those who gathered in front of the Iranian embassies, consulates, and protectorates around the world today, please pray for Pastor Saeed and all the others who are in prison for the peaceful exercise of their faith. We also encourage you to tweet the hashtag #SaveSaeed and write letters to Saeed or to Iranian leaders.
* Cassie Carsrud, who also attended this demonstration, contributed to this piece.