Biden Abandons American Energy Independence
With three simple words, "we will oppose," President Biden's Administration embarked on a new crusade for climate justice. Their recently issued directive to American Embassies says that the new U.S. policy is "ending international financing" for coal, oil, and natural gas projects from upstream to downstream.
This latest shock to the markets builds on the misguided Executive Order Biden issued telling other countries how to diversify their energy sources. Biden's move means that longtime allies and partners like Poland, Vietnam, India, and Japan will be largely barred from receiving U.S. energy support. The new policy also not only impacts our foreign partners but penalizes U.S. energy companies.
The announcement is the latest reversal of the pro-growth energy policies we saw flourish under the Trump Administration, including record exports and 50-year authorizations to extend those exports. President Biden, however, has abandoned America's hard-fought energy independence and rolled us back to the days of begging the Middle East and Russia for help lowering U.S. gas prices.
Commercial diplomacy was once crucial to America's Cold War victory. After decades behind the Iron Curtain, the entry of U.S. industries into global markets provided lasting opportunities for American jobs and international development. Companies like Levi Strauss and Coca-Cola are synonymous with freedom because of their expansion. Foreigners have embraced the powerful American brands as symbols of their own independence. And it is why President Donald Trump's America First agenda embraced this principle and empowered U.S. Embassies to unapologetically promote American companies. But, today, Biden is dialing back that progress and pride.
For the energy sector, an association with this American legacy is crucial. The world still recognizes that the ability to attract American industry is the driver for their economic freedom. The world is not clamoring for China or Russia to take the lead; they want America.
U.S. companies provide over one-third of Poland's natural gas supplies, lead Arab-Israeli economic integration, and underpin Kosovo-Serbia economic normalization. Our partners are already facing challenges, but now they find themselves shamed by climate activists while simply trying to pursue energy security. And it is fair to ask: If the U.S. won't support a key project, will any commercial bank?
By 2022, the U.S. is projected to be the world's largest exporter of liquified natural gas and is already a leader in emissions reduction technology. These are positions that generate tens of billions in revenue for the American economy. Biden's new ill-defined bureaucratic hurdles undermine these prospects.
Despite the Sierra Club's attempts to conceal the facts, climate policies that ignore the markets only increase volatility; and according to Fatih Birol of the International Energy Agency, there is a "looming risk of more turbulence." Oil alone, a key driver of industries, has witnessed record price spikes since Biden took office. It's clear Biden doesn't understand that combating the global recession requires predictability, not instability.
Biden clearly doesn't know that the U.S. doesn't have a sufficiently robust, or independent, renewable energy sector – certainly not one capable of servicing the world's rapidly growing energy demand. Without a domestic supply chain, the U.S. will undoubtedly find itself subsidizing China's renewable energy dominance and exploitation of slave labor.
The hypocrisy of climate policies is even scoffed at by the very countries they claim to help. For a continent like Africa, the policy of imposing renewable projects over scalable fossil-based projects smacks of climate colonialism. In advance of COP-26, Uganda's President Museveni went so far as to condemn such policies, saying they "force poverty on Africa."
After all, the developing world comprises the bulk of the world's 3.5 billion people without access to reliable electricity, including 770 million without any access to electricity. Renewable energy, as an intermittent energy source, cannot be depended on for energy equity, let along the foundation for an emerging economy.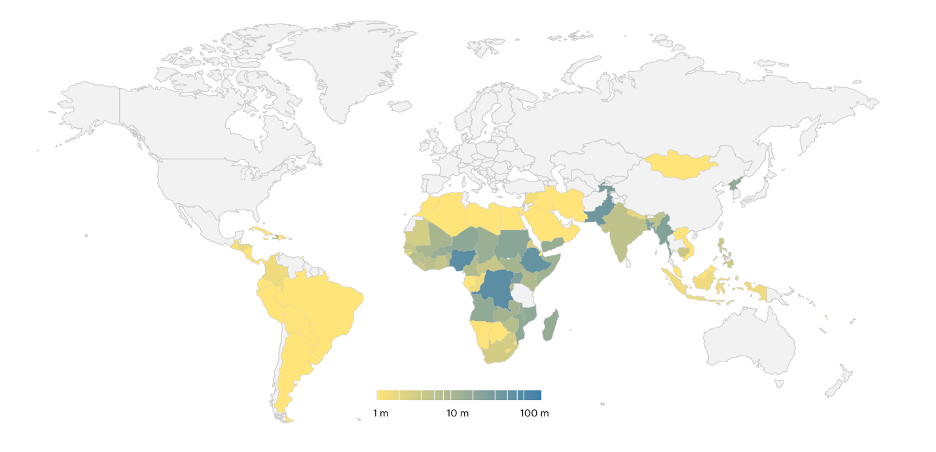 Embracing efforts to combat climate change should never compromise economic opportunity at home or abroad. Look no further than Germany, or my home state of California, two key examples of today's climate colonialism. Biden's present course is likely to only create a proliferation of what he seeks to eliminate – energy inequity and economic stagnation.
It's time Biden recognizes that the U.S. energy sector is an enduring pillar of progress and prosperity in the eyes of our allies and adversaries alike. It should be Biden's goal to help strengthen these pillars, not tear them down.
Support the work of the ACLJ as we continue to bring you expert analysis on the issues that matter most. Have your Tax-Deductible gift DOUBLED through our Matching Challenge.