ACLJ's Pakistani Affiliate Rescues Christian Man From Involuntary Servitude
Adding to the series of victories in bonded labor cases shared here and here, our Pakistani affiliate has secured another victory for a Christian family, rescuing them from being forced to work without payment for over two years.
Bonded labor is illegal in Pakistan, but many people are forced to perform manual labor, often for much less than the minimum wage and sometimes without any payment. This problem is especially found in the Christian community that is often poor and working for majority Muslim employers who take advantage of them as a disfavored minority.
The way it works is that an employer—usually a brick kiln or cattle and agricultural farm owner—gives a small loan (called peshgi or advance payments, which are illegal under Pakistani law) of approximately $200 to $1,000 to an employee when hired. The employer deducts some amount from the employee's salary each month to pay toward the loan. However, the loans almost never get paid off due to the employer's dishonesty in keeping the records. This can go on for years, and the employee is not allowed to leave until the "loan" gets paid off. While Pakistan's Bonded Labor System (Abolition) Act, 1992, prohibits giving such loans, the practice is still common.
While there are no administrative or law enforcement mechanisms to stop such practices, Pakistani law does provide for legal remedies to the bonded laborers who want to leave oppressive work conditions. Any family member or relative can petition the court on the bonded laborer's behalf, stating that the person is unlawfully detained by the employer and forced to work against his will. The courts immediately order the police or a court official to recover the bonded laborer and bring him to the court for a statement. The judge usually has two questions for the bonded laborer: "Were you held against your will and do you want to be set free?" As long as the bonded laborer's answer to both questions is yes, the court orders that he be set free.
Arguably, the employer can retaliate against the employee by abducting him and forcing him to work or filing a civil suit to recover the "loan" amount. However, this rarely happens because the bonded laborer only seeks to leave through court action after the employer has already deducted the loan amount from his salary and is not paying him the agreed wages or letting him leave. In such a situation, the employer has no incentive to fight legal battles or force the employee to work for him, as it could result in contempt of court or even criminal charges against the employer under the bonded labor laws. The employer also has no incentive in filing a civil suit to recover the alleged "loan" because it is illegal to begin with and any suit for recovery is unenforceable. Additionally, the employer would end up spending more money on legal fees than the amount of the unlawful loan, which the employee has most likely paid off by working for months, if not years. However, in a rare case, some form of retaliation cannot be absolutely ruled out where a loan amount is in fact due—e.g., a case in which an employee obtains a loan and runs away or files a legal action to leave without providing reasonable work in return.
In our affiliate's current victory, about two years ago, a Christian couple, Nadeem Masih and his wife Rukhsana, began working for Muhammad Arshad and his brother Muhammad Amjad at their farm in a small village in Sheikhupura District, about 80 kilometers northwest of Lahore. Nadeem took care of Arshad's cattle and Rukhsana worked as a servant at Arshad's house, where she cleaned and cooked. Both were provided a room at the farm. They were also given a loan of about 270,000 rupees (approximately $1,550).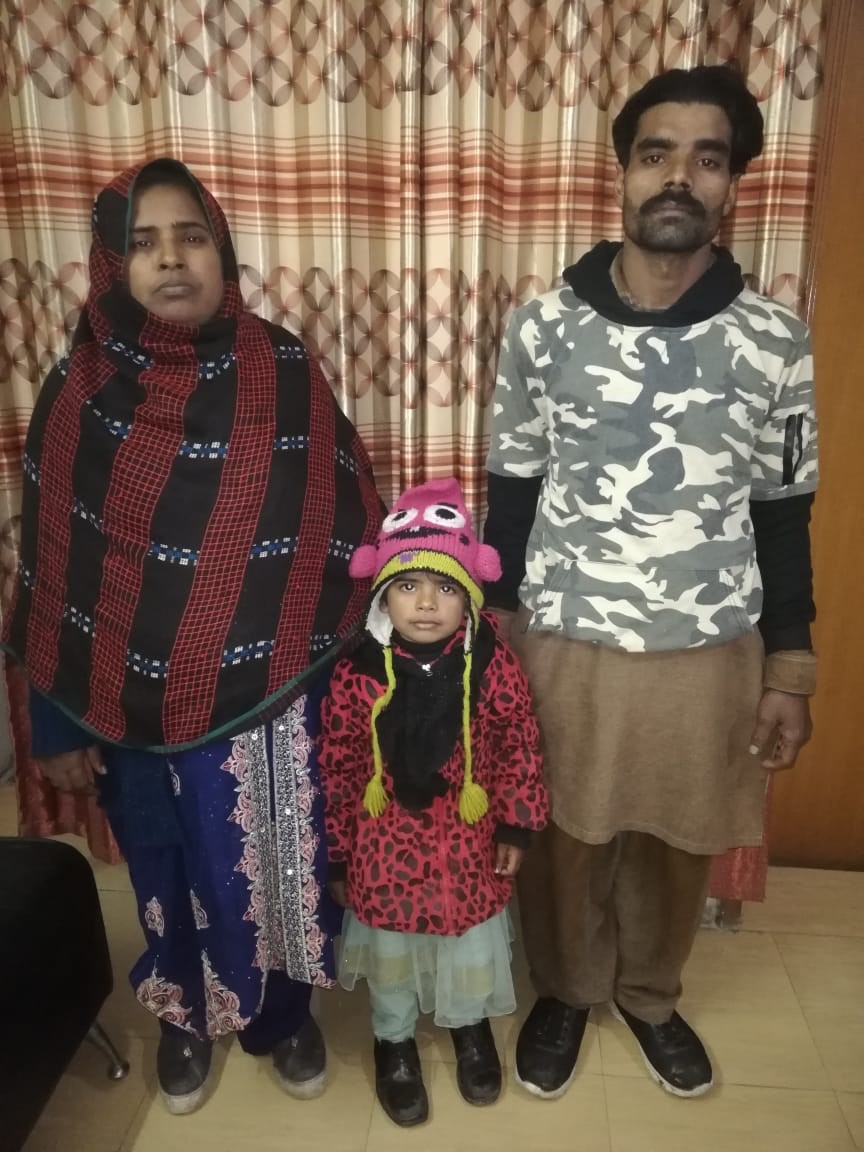 While Arshad agreed to pay Nadeem 12,000 rupees (approximately $68) per month for his work—which is 8,000 rupees less than the government-approved monthly wage—Arshad only paid the first month, claiming he was deducting the loan amount. Arshad had also agreed to pay Nadeem's wife 8,000 rupees per month for working at his house. But this amount was never paid either. Every time Nadeem asked for his salary or wanted to leave, Arshad beat him. After about one year, Nadeem sold a cow that he owned and, with some financial help from his in-laws, returned Arshad's loan amount. But neither he nor his wife ever received two years' worth of salaries.
About two weeks ago, Nadeem's pregnant wife left the farm to pick up some medicine. Instead of going back, she went to her parents' house and was put in touch with our team in Pakistan. Our affiliate's attorneys immediately filed a petition of habeas corpus in the Lahore High Court, stating that Nadeem was unlawfully detained and forced to work against his will without any payment.
The same day, the court appointed an official to recover Nadeem and to bring him before the judge. The court official took a police contingent from a local police station and raided Arshad's farm. Nadeem's wife identified her husband and the court official asked Nadeem if he was kept there and forced to work against his will. Upon Nadeem's answer, the officer told him that he was there to take him to the court. He also told Arshad to appear before the court the next morning.
At the hearing the next day, the court official submitted his report to the judge, and the judge ordered that Nadeem be set free. Arshad did not appear, but his lawyer came and told the judge that Nadeem had borrowed money from Arshad. The judge told him that the employer could file a suit for the recovery of the loan, but he was not allowed to force Nadeem to work.
Because it is common for people who come out of bonded labor to go back to similar situations, our team has decided to continue to stay in touch with the rescued people and assist them in finding proper employment. They discussed with Nadeem about other employment options and offered to help him find employment. Nadeem was very thankful for the assistance he received. Our team in Pakistan will continue to work with Nadeem and assist him in finding employment.