Brazil Stands With Pastor Youcef Nadarkhani
Our international efforts to free Iranian Pastor Youcef Nadarkhani, who faces death by hanging because of his Christian beliefs, continue to grow each day. Now, there has been a critical development by a South American nation that has both economic and diplomatic relations with Iran, adding to the mounting international pressure for Pastor Youcef's release.
I have been in Brazil this week meeting with government officials and participating in interviews with the news media - generating support for Pastor Youcef in a nation that cherishes religious freedom and is working to secure the release of Pastor Youcef.
My wife Anna and I have spoken at several church events to groups of thousands of Christians at Igreja de Deus no Brasil (Church of God) in Brasilia, Brazil eager to assist in the effort to save pastor Youcef's life. On Monday night I spoke to a group of over 2,000 pastors in Rio, Brazil at Associação Vitória em Cristo.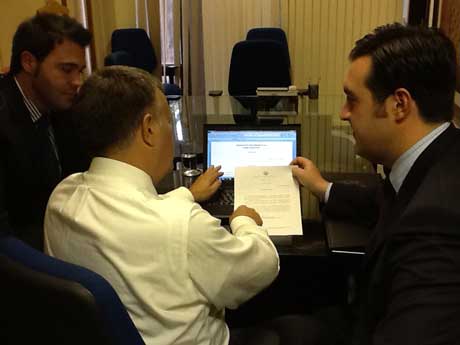 Our international team was warmly welcomed by Brazil's Vice President Michel Temer in his office in Brasilia, the capital of Brazil. Through an interpreter, he told me in Portuguese that the Brazilian government took immediate action when it became aware of Pastor Youcef's plight just weeks ago.
As you may recall, one of Brazil's largest television networks did an extensive report about Iran's decision to put Pastor Youcef to death simply because of his Christian faith. I appeared on national television telling the Brazilian people that there's growing support worldwide and that pressure continues to mount against Iran to free Pastor Youcef.
In our meeting, it was very clear that Vice President Temer was deeply concerned about this case and explained to me that defending human rights is a priority for Brazil. He assured me that the case of Pastor Youcef would not be ignored by the Brazilian government. I provided him with the original Iranian supreme court verdict convicting Pastor Youcef to death by hanging for his Christian faith in Farsi and translated into Portuguese (the ACLJ also has English and Russian translations).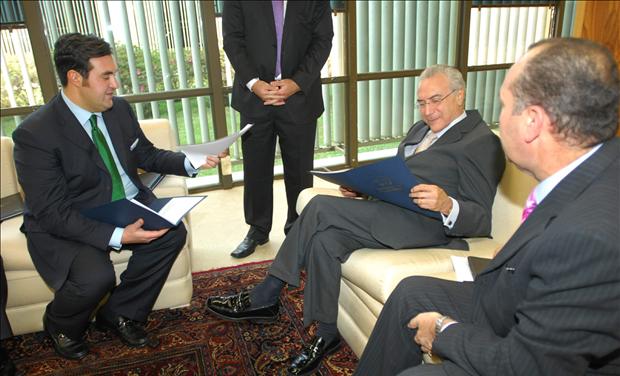 In fact, he told me that his nation engaged Iran on this most critical issue immediately when it became aware of this case and said his nation "took actions" diplomatically to keep the execution from taking place. He said Brazil's message to Iran was very direct: "Brazil has a responsibility to take action to protect human rights and religious liberty" and urged Iran to release Pastor Youcef immediately.
Brazil is one of the few nations in the world that has economic and diplomatic relations with Iran and is able to communicate directly with the government there.
We're extremely grateful that Vice President Temer, along with President Dilma Rousseff, understand the importance of standing up for religious freedom and human rights. The case of Pastor Youcef is front-and-center in Brazil and we are thankful that this nation is doing all that it can to secure Pastor Youcef's release from Iran.
A new United Nations report underscores Iran's violations of human rights. Ahmed Shaheed, a UN special rapporteur for the Human Rights Council cited evidence of "a striking pattern of violations of fundamental human rights guaranteed under international law."
We will continue to fight for freedom for Pastor Youcef around the globe. We received word just yesterday from our sources in Iran that Pastor Youcef is alive and in good condition.
As part of our global outreach, the Tweet for Youcef campaign continues to expand, now reaching more than 1.1 million Twitter accounts each and every day. A vital tool in generating worldwide attention and support for Pastor Youcef.
Because of the overwhelming support of evangelicals in Brazil for Pastor Youcef, we are preparing to launch a second Tweet for Youcef program for Brazil, in Portuguese.
We're grateful for Brazil's strong statement and actions backing Pastor Youcef. We must keep up the pressure on Iran to abide by international law and to immediately and unconditionally release Pastor Youcef now.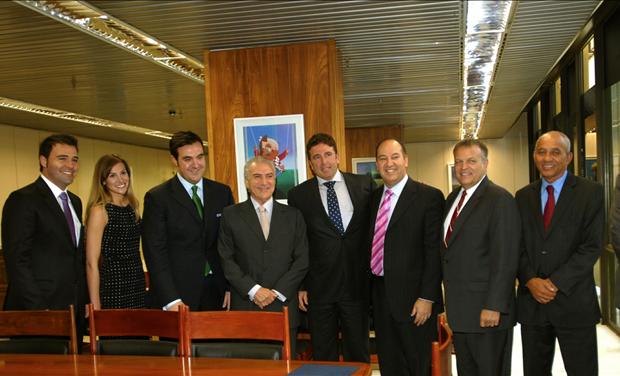 * Top image (left to right): ACLJ Director of Digital Policy Anna Sekulow, Brazilian Vice President Michel Temer, and ACLJ Executive Director Jordan Sekulow.