Mariam Ibraheem and the Power of Prayer
As millions of people gathered around our country today to celebrate the National Day of Prayer, I had the privilege of raising a critical issue at an important event in Virginia.
At the Suffolk Leadership Prayer Breakfast in southeastern Virginia, my wife, Anna, joined me in participating in an amazing event focusing on religious persecution – and the story of Mariam Ibraheem who faced a death sentence in Sudan because of her Christian faith.
I had the honor to introduce her and her husband at the event and ask her some questions about her faith and her ordeal.
Mariam revealed how she refused to waver in her faith in Christ, believing God would save her even as she was shackled in chains and sentenced to 100 lashes and death. Making matters worse, her infant son was in prison with her and she was pregnant with another child at the time - forced to give birth while shackled in chains.
In the face of persecution and told by Sudanese officials that she could avoid a death sentence if she renounced her Christian faith, Mariam stood strong and refused to reject her faith.
For three consecutive days, she was told to renounce Christ. For three consecutive days, she refused.
Her plight drew the attention of millions of people around the world – including the ACLJ which mobilized an international effort to demand her freedom. Nearly 600,000 people signed on to our petitions of support for Mariam. After a massive outcry from around the globe, Mariam was released from prison in July 2014 and reunited with her family – able to leave Sudan and come to the United States.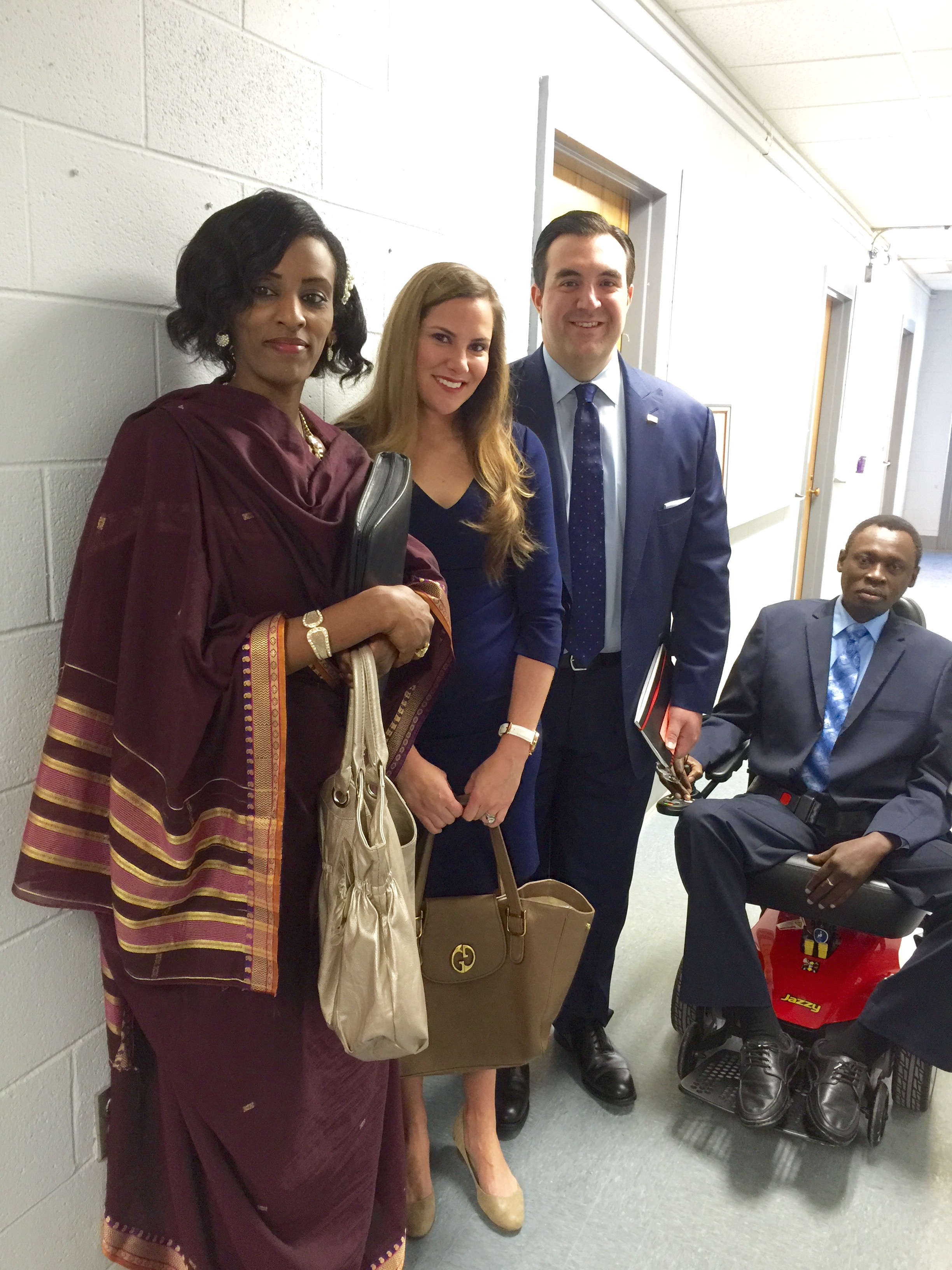 At today's event, Mariam had a powerful message on this National Day of Prayer. She revealed that while on death row, she said she could feel people praying for her around the world – prayers that were critical in helping her survive.
Finally, she reminded us that her and her family are now on the path to start a new life in the United States. There are challenges ahead. They lost a successful business in Sudan and now are working to create a life for their family here.
Freedom from death row is not the end of the story. She and her husband lost their successful business in Sudan and so much more to come to a new country here in the United States, where they face very real hardships still.
I pledged our continued prayers and support for Mariam and her family. And I assured her that her story of survival remains a powerful reminder for the global church.
Mariam's story reminds us why we must remain vigilant in fighting Christian persecution around the world.
And at the ACLJ, that very much remains a priority.
We are working to secure the freedom of others who are imprisoned because of their Christian faith, including American Pastor Saeed Abedini who spent this National Day of Prayer—which happens to be his 35th birthday—in a prison cell in Iran.
In fact, at today's event in Virginia, Mariam and her husband specifically prayed for Pastor Saeed and his family.
In the words of Pastor Saeed, who wrote a letter commemorating the National Day of Prayer from his prison cell: "Remember my chains in your freedom and chain together in unity for our beloved America."
Those words were embraced by millions around the country today – including Mariam Ibraheem and her family who have experienced first-hand the miraculous power of prayer.