Facing Genocide for Their Faith
In the Land of the Free we cannot begin to fathom what it's like to live in fear of whole communities being rounded up and massacred simply because of a difference in faith, but it is a daily reality in the Middle East.
To most of us such horrors are locked away in the vault of human history, only to be released once in a very great while when recounting the atrocities of the Holocaust that took the lives of six million Jews.
But the reality in the Middle East is that, as we speak, whole communities of Christians and other religious minorities are fleeing for their lives in the wake of ISIS's most recent mass execution of nearly 2,000 Iraqi civilians.
Even as we now sit in the comfort of our own homes and workplaces, the Islamic State (ISIS) has kidnapped over 100 Christian families with the potential plan to mass execute, behead, and even sell the women and female children into sex slavery.
Now even as I fret over whatever may be the latest menial issue in my life, nineteen brave girls have been executed for refusing to have sex with ISIS fighters.
In truth, the barbarism of the Islamic State has no bounds.
This recently authenticated "price list" of Yazidi and Christian women available for purchase on the ISIS sex-slave market is just one of the many examples of brutality the Islamic State is capable of.
It shows the value ISIS places on human life—treating women of minority faiths as if they are of no more value than cattle, even putting female children between the ages of one and nine up for sale at $172 per "item" – the younger the girls, the higher the price.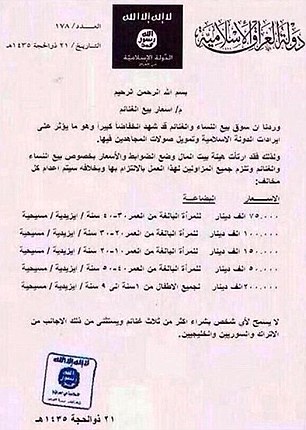 Translated:

We have received news that the demand in Women and Cattle market has sharply decreased and that will affect Islamic State revenues as well as the funding of mujahideen in the battlefield, therefore we have made some changes. Below are the prices for Yazidi and Christian women.

The price for Yazidi or Christian women between the age of 40 - 50 is $43 (£27)
$75 (£48) for 30 to 40-year-olds
$86 (£55) for 20 to 30-year-olds
$130 (£83) for ten to 20-year-olds
$172 (£110) for one to nine-year-olds

Customers are allowed to purchase only three items with the exception of customers from Turkey, Syria and Gulf countries.
Beheading. Mass execution. Sex-slavery. These are realities our brothers and sisters in Christ and their children face daily in the Middle East.
Christian persecution at the barbaric-hand of radical Islam is on the rise globally, and American Christians must first face the truth that genocide is not a thing of the past, and then take a stand to put a stop to it before it reaches the magnitude of Nazi Germany.
At the ACLJ, we're vigorously working in Congress and in our offices across the globe to protect and defend these endangered Christians. Now, a major funding bill in Congress has incorporated key recommendations presented by ACLJ Chief Counsel Jay Sekulow in congressional testimony earlier this year. It is steps such as these that can begin to turn the tide. But we must remain vigilant to defend the persecuted Church. They need our voice more now than ever.
Take action now by signing our petition to defend persecuted Christians worldwide.