Why We Should Pray for the Peace of Jerusalem (and Israel)
King David admonished us to pray for the peace of Jerusalem. Perhaps we should not just pray for Jerusalem, but for the entire state of Israel. The current geopolitical climate within and surrounding Israel illustrates why prayers and aggressive advocacy are needed.
Israel faces immense threats not only from the surrounding countries, many of which have publicly called for Israel's destruction, but also from Palestinian terrorist organizations within its own territory. Consider the following.
Internal matters
Hamas, an internationally-recognized terrorist organization, currently controls the Gaza strip. The Fatah-led Palestinian Authority and President Mahmoud Abbas control the West Bank.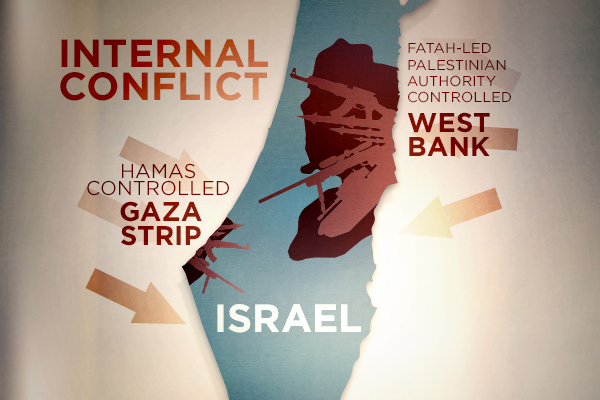 Though Hamas and Fatah do not play well together, the two groups, in 2014, attempted to unify (again). In this regard, Jordan Sekulow wrote,
[t]he terrorist group Hamas has once again joined with the Fatah party to form a unity government in opposition to Israel's right to exist. . . .

The Palestinians now have a "government of national consensus," but consensus with whom? Terrorists.

Hamas has been a recognized terrorist group since 1997. That's who Abbas is welcoming with open arms. The only consensus they have is rallying international support to oppose and eventually annihilate Israel.
Not surprisingly, this Hollywood-like "marriage" did not last long. In June 2015, Abbas dissolved the Fatah-Hamas consensus government on the grounds that Fatah officials "could not operate in Gaza." But the Palestinian factions continue to play charades with the international community – as long as the Palestinian Authority works with Hamas and refuses to condemn their terrorist attacks against Israel, they remain de facto allies.
To make matters worse, violence in Israel is on the rise. Reuters recently reported that,
Over the past month, eight Israelis have been killed and many more wounded in attacks carried out by Palestinians who are either Israeli citizens or were carrying Israeli identification cards. During the same period, more than 40 Palestinians have been killed, about half while carrying out attacks on Israelis, most of them using knives.
Here is the thing: the above issues only focus on Israel's internal issues… One only needs to look at a map of Israel and the surrounding states to understand how volatile the entire region is, despite Israel's constant efforts to maintain peace and stability.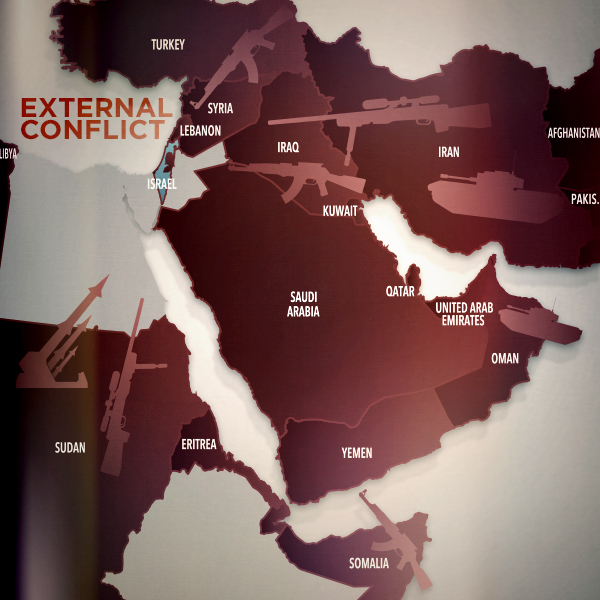 External matters
To Israel's south, Egyptian President Abdel Fattah el-Sisi is having a difficult time fighting various terrorist factions in the Sinai Peninsula. In fact, recent clashes "between Islamic State (IS) militants and the army in Egypt's Sinai Peninsula have left more than 100 dead. . . ." Consider how close the Sinai Peninsula is to Israel's southern border.
There is also increasing unrest in Jordan as a result of the recent Temple Mount violence. The Jerusalem Post suggested that "King Abdullah II has rebuffed efforts by Prime Minister Benjamin Netanyahu to speak and meet with him about the situation. Last moth [sic] Jordan even threatened to recall its ambassador to Israel as a sign of its displeasure."
In Lebanon, Hezbollah, Iran's strongest proxy, may now be conducting "joint patrols" with the Lebanese military. In light of this development, The Jerusalem Postraised the following question: "Hezbollah today has members of parliament and enough government ministers that can tilt major decisions in its direction. Will the Lebanese military fight alongside Hezbollah in the next war?" Moreover, according to Ynet, "While Israeli intelligence officials believe the Shiite organization is experiencing the most difficult phase in its history after losing some 1,300 fighters in the Syrian battlefields, its leader Nasrallah is only intensifying preparations for the next conflict with Israel."
In Syria, "Iran is using the Syrian Golan Heights to carry out a number of attacks on Israel." Prime Minister Netanyahu is no doubt aware of this threat as The New York Times recently reported: "Mr. Netanyahu said that Iran and Syria had provided Hezbollah with 'thousands' of rockets fired at Israel over the years. 'Iran, under the auspices of the Syrian Army, is attempting to build a second terrorist front against us from the Golan Heights. . . .'"
Iran may be the greatest threat to Israel in the region. In addition to its dangerous influence in Syria and the recent Nuclear Deal (if you want to call it a deal rather than a sweepstakes giveaway to Iran), Iranian leaders are constantly making unveiled threats with regard to destroying Israel. For example, as reported by The Times of Israel, Iran's Supreme Leader Ayatollah Ali Khamenei recently tweeted that Israel "will not see [the] next 25 years" and that "the Jewish state will be hounded until it is destroyed."
The brutal terrorist organization ISIS cannot be overlooked either. ACLJ Senior Counsel Skip Ash recently wrote an excellent piece explaining how complex this threat is. He wrote,
Israel is officially neutral [in the Syrian conflict] in the sense that whoever wins will not be friendly to Israel; in some Israeli circles, people are saying "better the devil you know than the devil you don't" (which would suggest a preference for al-Assad rather than ISIS or some other jihadist group—especially since Assad is being significantly weakened by the ongoing civil war); Israel remains concerned, however, by Syria's movement and actual use of chemical weapons and by the increasing presence of Iranian Quds forces on the Golan Heights.
This storyline of Israel and the surrounding region could come straight out of the next Star Wars movie. Unfortunately, as they say, you couldn't make this stuff up.
The reality is that these are all serious matters which require serious decisions and invaluable wisdom. It is no wonder David calls on us to pray for the peace of Jerusalem.
This is why the ACLJ continues working on multiple fronts to stand with Israel. We work on Capitol Hill to ensure that the U.S. remains a steadfast ally to Israel. We work diligently at the UN and ICC to protect Israel's right to defend itself against terrorists.
Stand with us as we stand with Israel.