Tonight the first of over 500 scheduled prayer vigils for Pastor Saeed and the persecuted Church was held in front of the White House.
As the early morning hours of the day marking two years of illegal imprisonment began in Iran, Franklin Graham, Pastor Saeed's wife, his kids, my dad Jay Sekulow and hundreds of others gathered in front of the White House to pray for Pastor Saeed's freedom.
Over the next day, prayer vigils will be held not only all across America but in 33 countries around the world highlighting the plight of American Pastor Saeed Abedini who is imprisoned in Iran for his Christian faith and so many others just like him across the globe.
Tonight's prayer vigil in front of the White House was a powerful reminder of the power of prayer. God's Word tells us, "For where two or three gather in my name, there am I with them." Thousands are now beginning to gather together in prayer for our brother in Christ Pastor Saeed.
Tonight we not only prayed for his safety and his swift return to his family, we prayed for all those suffering in chains for the gospel around the world.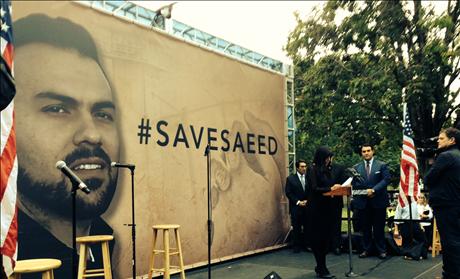 Pastor Saeed's wife Naghmeh shared a letter Pastor Saeed wrote to his daughter Rebekkah as she recently celebrated her 8th Birthday (the third Birthday she has had to spend apart from her father). In it he talks about the power of prayer even in the midst of these dark times. He says:
I know that you question why you have prayed so many times for my return and yet I am not home yet. Now there is a big WHY In your mind you are asking: WHY Jesus isn't answering your prayers and the prayers of all of the people around the world praying for my release and for me to be home with you and our family.
The answer to the WHY is WHO. WHO is control? LORD JESUS CHRIST is in control.
I desire for you to learn important lessons during these trying times. Lessons that you carry now and for the rest of your life. The answer to the WHY is WHO. The confusion of "WHY has all of this happened?" and "WHY your prayers are not answered yet" is resolved with understanding WHO is in control…LORD JESUS CHRIST, our GOD!
God is in control of the whole world and everything that is happening in it is for His good purpose, for His glory, and will be worked out for our good (Romans 8:28). Jesus allows me to be kept here for His glory. He is doing something inside each of us and also outside in the world. People die and suffer for their Christian faith all over the world and some may wonder why? But you should know the answer of WHY is WHO. It is for Jesus. He is worth the price. And He has a plan to be glorified through our lives.
This letter (available here) was read aloud at the vigil in a moving testament to the strength found through Christ. The letter closes with Pastor Saeed telling his children, "So, let Daddy hear you sing a loud Hallelujah that I can hear all the way here in the prison!" And they did just that. His two young children, Jacob and Rebekkah, sang one of his favorite songs.
Thousands around the world are joining them in prayer for their father's freedom. Nearly 300,000 have signed the petition for his freedom at BeHeardProject.com.
Over the next 24 hours or so, people all over the world will lift up Pastor Saeed in prayer. We will continue to pray. We will continue aggressively fighting across the globe for this persecuted pastor's freedom.
Learn more about tomorrow's vigils and where you can attend a vigil in your local area by visiting SaeedVigil.com.