Engaging Iran at the United Nations to Free Pastor Youcef
For the first time, the Iranian regime has admitted to the world community that the case against Pastor Youcef Nadarkhani involves his Christian faith and religious activity, as there are new calls at the United Nations (UN) for his immediate release.
As I sit in a room full of international media and representatives of UN member states at a meeting of the Human Rights Council in Geneva, Switzerland, listening to Special Rapporteur Dr. Ahmed Shaheed present his report on human rights abuses in Iran, it is clear that ignorance is no longer an excuse for inaction. Without hesitation or trepidation, Special Rapporteur Dr. Shaheed specifically called for Pastor Youcef's release.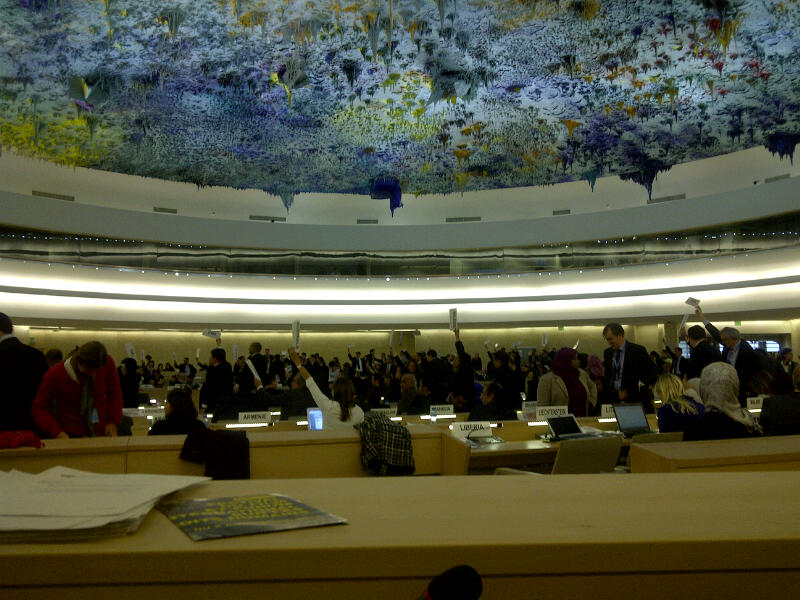 Although the Special Rapporteur's formal report did not mention Pastor Youcef or the systematic persecution of Christian communities in Iran, as he did in his last presentation, it is clear after his oral presentation today to the Human Rights Council that he is gravely concerned about Pastor Youcef's case. Special Rapporteur Dr. Shaheed requested that "the Iranian authorities reassess the cases of all those listed in [his] report and to reconsider the aforementioned cases presented here today." He also urged them to consider the release of "Pastor Yousef Nadarkhani who has been sentenced to death for apostasy . . . ."
After having several meetings directly with the Special Rapporteur on human rights in Iran and with delegates from key nations, I am encouraged that some at the UN are working to ensure that Iran immediately and unconditionally releases Pastor Youcef. Of particular import, we would like to thank the European Union, Canada, Sweden, France, Spain, Mexico, Norway, Belgium, Switzerland, Australia, United Kingdom, Germany, United States, Slovakia, Czech Republic, and Brazil for speaking out against religious persecution in Iran and calling for the release of prisoners of conscience.
The European Union stated that it has "followed closely" the "case of Pastor Nadarkhani, tried for apostasy," and expressed concern for the condition of human rights in Iran, including the imprisonment of attorneys who represent human rights cases. You will recall that Iran has disbarred and sentenced Pastor Youcef's Iranian attorney, Mohammad Ali Dadkhah, to nine years in prison for representing people like the persecuted pastor.
Representatives of Norway urged Iranian authorities to specifically review the case of Pastor Youcef and condemned the deplorable human rights situation in Iran. Australia stated that it was particularly "concerned about [the] case of Youcef Nadarkhani" and "urge[d] [the] Iranian government to review the case." Germany's representative stated, "We urge Iran not to issue the death sentence against Nadarkhani and review his case." Brazil continued to lead in placing international pressure on Iran, stating, "Of a particular concern is a systematic persecution of religious minorities" including "Youcef Nadarkhani, who has been accused of apostasy."
Remarkably, Iran responded to the calls for Pastor Youcef's release and, for the first time, admitted to the international community that Pastor Youcef's case concerned his religious beliefs and actions. Despite its admission, Iran continued to deny the concrete evidence that the only charged levied against Pastor Youcef was apostasy.
Instead, in asserting that the Special Rapporteur's report was biased and unprofessional, the Iranian representative stated that Pastor Youcef's case involved three allegations, none of which match previous false allegations made by the regime: 1) he was inviting the junior school students without consent of the school or parents to his home to preach to them; 2) he converted the underground of his house to a church, and he did not get permission from Iran to do so; and 3) in preaching Christianity, he was offending Islam. Interestingly, the Iranian representative claimed that Christianity and Judaism are preached freely in Iran, but that Pastor Youcef was offending Islam in so doing.
The Special Rapporteur once again reiterated in his closing remarks that Pastor Youcef had been convicted on an apostasy charge in Iran. He also stated that although Pastor Youcef's lawyers feared Iran may use another charge to justify executing him, the legal documents – which I provided to him last week (the original Iranian supreme court verdict in Farsi and translated into English, Portuguese, and Russian) – only state apostasy as the charge for which he is to be executed.
This is an important step forward as international pressure continues to build. Last week Jordan Sekulow, ACLJ Executive Director, met with the Vice President of Brazil and other governmental officials who are directly engaging the Iranian ambassador, demanding that Iran immediately release Pastor Youcef. Additionally, a Dutch member of parliament also delivered a petition to the Iranian embassy in The Hague calling for Pastor Youcef's freedom.
Although we are encouraged by these recent developments, we hope that nations with influence in Iran will continue reach out to the Supreme Leader, Ayatollah Khamenei, and request that he immediately and unconditionally release Pastor Youcef. Iran's continued disregard for its international human rights obligations reflects negatively on all of Islam, a reason for which other Muslim nations should encourage Iran to release Pastor Youcef.