Brazilians Rally Outside Ahmadinejad's Hotel Demanding Youcef's Release
Yesterday, world-renowned Brazilian Pastor Silas Malafaia organized a rally in front of Iranian President Mahmoud Ahmadinejad's hotel, calling for Christian Pastor Youcef Nadarkhani's release.
Pastors and concerned Brazilians lined the streets with signs in Portuguese and English calling for Pastor Youcef's immediate release as Ahmadinejad attended the Rio +20 conference in Brazil.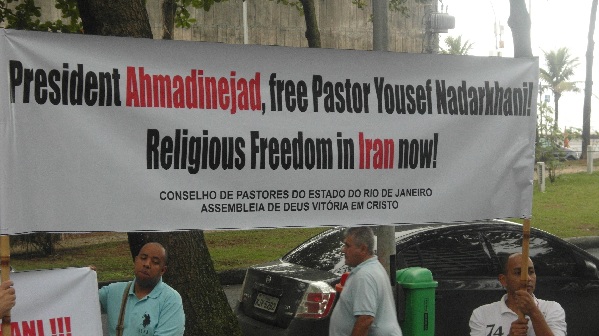 International media covered the event intended to highlight the plight of Pastor Youcef worldwide and specifically obtain the attention of Iran's president. Here are a few pictures of the signs; you can see these and other images from the event on the popular Christian news site, VerdadeGospel.com.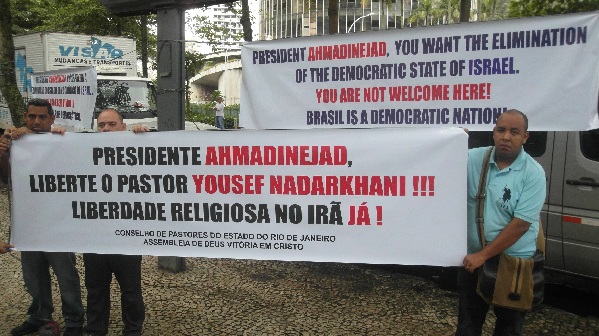 Earlier this week, Pastor Malafaia and eleven other pastors sent a letter through Brazil's Vice President Michel Temer directly to President Ahmadinejad. The letter states:
We, christian pastors of Brazil, representing millions of evangelicals in our country, hereby appeal for the life or your co-citizen imprisoned, Mr. [Youcef] Nadarkhani . . . .
We evangelicals of Brazil, following the biblical principle of tolerance and above all the rights of free will, defend the rights of all muslims who are presently living in Brazil to freely confess their faith and their culture, and, in the same way, we expect reciprocity of your government towards the iranian christians in your country.
You can read the entire letter here.
Brazil's close diplomatic ties with Iran continues to provide hope that a diplomatic resolution can be reached for Pastor Youcef's freedom. We will continue to support international efforts calling for Pastor Youcef's release and continue fighting for Pastor Youcef's freedom through our global resources.
The ACLJ's Tweet for Youcef campaign is now reaching more than 2.4 million Twitter accounts worldwide. You can sign up to Tweet for Youcef here, and sign the petition urging the U.S. Senate to quickly pass a pending resolution calling for Pastor Youcef's freedom before July 8th, the 1,000th day of his illegal imprisonment.