Samburu Project: Freeing Young Girls from Horrific Sexual Bondage
2015 has been an amazing year for ACLJ's affiliate in Africa, the East African Centre for Law and Justice (EACLJ), on many fronts. We are especially thankful for the success of our civic education programs, which ultimately allowed us to help rescue several young girls from forced marriages, genital mutilation, and sexual assault.
In a quest to ensure that Kenyans are well informed about their rights and responsibilities under the Constitution, the EACLJ partnered with Samburu Girls Foundation to end retrogressive cultural practices by educating communities about their constitutional and international human rights.
In conjunction with Josephine Kulea, the Founder and Director of Samburu Girls Foundation, we planned community meetings in different parts of Samburu County. Ms. Kulea had seen first hand the devastating affects that these oppressive cultural practices—including beading, female genital mutilation (FGM), and forced child marriages—had on young girls in her community. In the EACLJ trainings, we planned to educate attendees on the Constitution of Kenya, as well as other International laws that condemn these practices.
But it wasn't until we arrived in Samburu that the reality of these cultural practices fully hit us.
Upon our arrival, we immediately assisted in facilitating a rescue mission for a young 12-year-old girl married to a 54-year-old chief. In the Samburu community, before a girl gets married she is forced undergo female genital mutilation as a rite of passage and then she is immediately sent to her husband. We joined Ms. Kulea in reporting the matter to the police. The chief was arrested and we rushed the girl to hospital for treatment.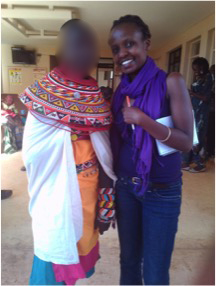 The following day we had yet another rescue in the neighboring town of Wamba. Here we met a young man who had taken his 10-year-old sister to the District Officer's office in an attempt to rescue her from a child marriage. We were able to rescue her just a day before a scheduled genital mutilation and traveled with her to Nairobi.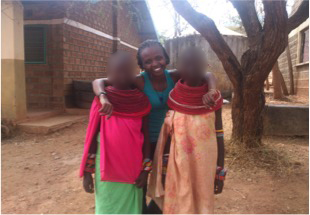 Soon after, we received yet another call for a rescue mission of a girl from Isiolo County. The victim had been assaulted by a moran (young warrior) who had beaded her, a barbaric practice of forced engagement of very young girls that often leads to assault. The girl was eager to go to school but her father would not enroll her. He instead allowed the young man to bead his daughter and the father left the homestead. We took the girl to the hospital and, after a few tests, we travelled with her to Nairobi.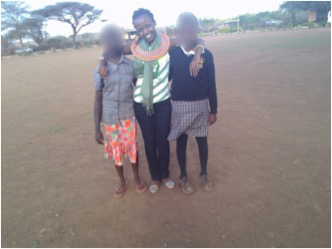 All these girls are now enrolled in a primary school and are safe. Seeing them happy and excited to be in school, learning to communicate in Swahili and English, was a truly amazing moment for me. Their beautiful smiles and their hopes of becoming successful women in the future make all of our efforts at the EACLJ worthwhile. It is an honor to be a part of this life-changing mission.
This article was written by the EACLJ's Phoebe S. Mliwa.