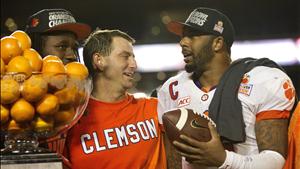 According to FFRF, faith and football don't mix, and that's why it's demanding that Clemson silence its Christian coach. Today, why
(WASHINGTON, D.C.) – The ACLJ has filed a federal lawsuit on behalf of student applicant Brandon Jenkins after the Community College of Baltimor
Sort by:
Play
School Prayer:
on ACLJ.org
Newest
Oldest
Most Popular


Download
Content type: RadioShow | 9:32 AM Apr. 23, 2014
You can't mix faith and football? Wrong.
According to FFRF, faith and football don't mix, and that's why it's demanding that Clemson silence its Christian coach. Today, why FFRF is completely wrong.

Content type: DocketBlogPost | 3:17 PM Apr. 22, 2014
The Sad Power Of An Atheist's Temper Tantrum
Angry atheists are at it again. This week, they're taking on Dabo Swinney, head coach of the Clemson Tigers. His alleged unlawful conduct? Expressing his Christian faith and allegedly making a number of voluntary religious activities available

Content type: DocketBlogPost | 10:14 AM Apr. 22, 2014
Angry Atheists Take On a Football Coach
As the New York Daily News reported last week, the group made famous for their war against nativity scenes and our National Motto ("In God We Trust"), has now picked a fight with Clemson University. The Freedom from Religion Foundation (


Content type: DocketBlogPost | 10:36 AM Apr. 11, 2014
Victory for Bible Club in NY
This week the ACLJ aided a New York high school student start up an after-school, student-led Bible study club. A senior at a high school in Amsterdam, NY, received approval from her principal to begin the after-school club, but on the day the club w
Content type: DocketBlogPost | 11:05 AM Mar. 25, 2014
ACLJ Defends the American Flag in the Ninth Circuit
The American Center for Law and Justice (ACLJ), which focuses on constitutional law, is urging a federal appeals court to reconsider a ruling backing a decision by a California high school to ban the American flag. The ACLJ has filed an amicus brief

Content type: DocketBlogPost | 9:42 AM Feb. 14, 2014
Victory for Elementary School Girl's Religious Liberty
The ACLJ recently represented a father and his elementary school daughter who was having her religious freedom violated by a public school in Nebraska. It started when she was not allowed to draw a picture of baby Jesus on a Christmas ornament, but w