By Todd Starnes, FoxNews.com Brandon Jenkins was denied entry to a radiation therapy program at the Community College of Baltimore County because of
By CBN News, The American Center for Law and Justice is suing a local Maryland college for denying a man admission because of his faith. The Communi
Sort by:
Play
School Prayer:
on ACLJ.org
Newest
Oldest
Most Popular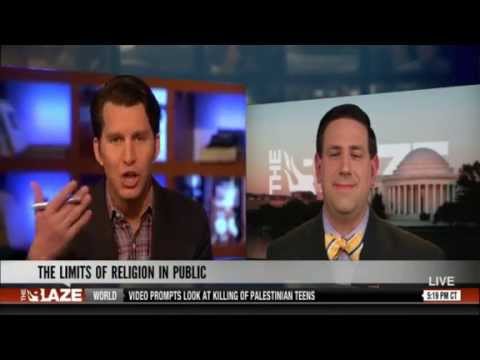 Content type: Video | 11:37 AM May. 21, 2014
The Blaze: Angry Atheists Attack 5th Graders' Right to Pray
An American Humanist Association lawsuit challenges a 5th grade graduation, attacking both the location and what students are allowed to say. ACLJ attorney Matthew Clark explains that students have a First Amendment free speech right to pray and how

Content type: DocketBlogPost | 1:10 PM Apr. 29, 2014
Justice Restored after Little Girl's Bible Banned from School
We recently assisted a mother and her daughter in Tucson, Arizona, who requested our assistance when the daughter was told that she could no longer bring her Bible to school. The daughter had been bringing her Bible to school to read and to discuss w
Content type: MediaMention | 3:06 PM Apr. 23, 2014
CBN News - Md. College Student Denied Admission over Faith
By CBN News, The American Center for Law and Justice is suing a local Maryland college for denying a man admission because of his faith. The Community College of Baltimore County rejected Brandon Jenkins' application to their radiation therapy prog


Download
Content type: RadioShow | 9:32 AM Apr. 23, 2014
You can't mix faith and football? Wrong.
According to FFRF, faith and football don't mix, and that's why it's demanding that Clemson silence its Christian coach. Today, why FFRF is completely wrong.

Content type: DocketBlogPost | 3:17 PM Apr. 22, 2014
The Sad Power Of An Atheist's Temper Tantrum
Angry atheists are at it again. This week, they're taking on Dabo Swinney, head coach of the Clemson Tigers. His alleged unlawful conduct? Expressing his Christian faith and allegedly making a number of voluntary religious activities available

Content type: DocketBlogPost | 10:14 AM Apr. 22, 2014
Angry Atheists Take On a Football Coach
As the New York Daily News reported last week, the group made famous for their war against nativity scenes and our National Motto ("In God We Trust"), has now picked a fight with Clemson University. The Freedom from Religion Foundation (


Content type: DocketBlogPost | 10:36 AM Apr. 11, 2014
Victory for Bible Club in NY
This week the ACLJ aided a New York high school student start up an after-school, student-led Bible study club. A senior at a high school in Amsterdam, NY, received approval from her principal to begin the after-school club, but on the day the club w