By Peter Baklinski, LifeSiteNews.com NBC has offered a formal apology for severing the phrase\"under God" from the Pledge of Allegiance during the op
Sort by:
Play
Pledge of Allegiance:
on ACLJ.org
Newest
Oldest
Most Popular

Content type: DocketBlogPost | 12:55 PM Dec. 15, 2011
2011 Victories: 'Under God' Stays in the Pledge of Allegiance
This is the latest installment in a year-end series looking back at a few of the hundreds of victories by the ACLJ in 2011. On Fathers' Day, NBC omitted the words "under God" – not once but twice – from a montage of chi

Content type: DocketBlogPost | 9:30 AM Jul. 12, 2011
NBC: Pledge Debacle "Will Not Be Repeated"
It's a victory for the Pledge of Allegiance and for the American people - including the tens of thousands of you who stood with us in support of the Pledge and the phrase\"one nation, under God." You'll recall on the final day of the U.S. Open Golf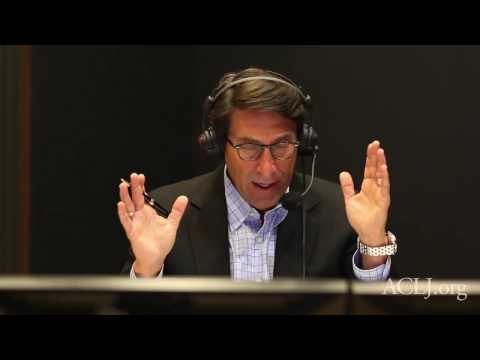 Content type: Video | 7:01 AM Jul. 1, 2011
Local City Council Attacks the Pledge
A city council in Oregon is banning America's Pledge of Allegiance for most of the year at its meetings. One council member even compared it to the communist manifesto!


Download
Content type: RadioShow | 10:23 AM Jun. 30, 2011
An Attack on the Pledge & 'God' at Funerals
An update on the Eugene, Oregon City Council banning the recitation of the Pledge of Allegiance before all but four council meetings a year, and a new attack on our heritage. A Houston, Texas veterans cemetery has banned the word\"God" from funeral


Download
Content type: RadioShow | 10:34 AM Jun. 29, 2011
Protecting the Pledge in Oregon
It's become open season on the Pledge of Allegiance. Now, the City of Eugene, Oregon says the Pledge of Allegiance is too divisive to recite before each city council meeting. We need to send a powerful message to to Eugene, Oregon: The Pledge of Alle

Content type: DocketBlogPost | 9:48 AM Jun. 29, 2011
Pledge Problem in Oregon
It's difficult to believe. But, one city in Oregon is limiting the voluntary recitation of the Pledge of Allegiance before city council meetings to four times a year. That's right, the Pledge of Allegiance apparently is too controversial and too divi