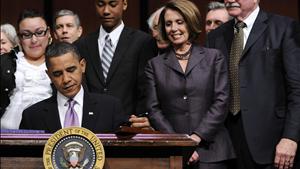 The Supreme Court's recent decision in the Hobby Lobby case striking down ObamaCare's abortion-pill Mandate has infuriated liberals in Congress, and n
By Andrea Billups, NewsMax.com The Republican National Committee expressed approval Monday morning after the Supreme Court ruled in the Burwell v. Ho
Newest
Oldest
Most Popular

Content type: DocketBlogPost | 3:36 PM Jul. 16, 2014
Victory: Pro-Life Senators Vote Down New Abortion-Pill Mandate
Senate Democrats attempt to gut religious liberty and "reverse" the Supreme Court's Hobby Lobby decision on the abortion-pill mandate has been defeated. Pro-abortion radicals reeling from the Supreme Court's decision in Hobby




Download
Content type: RadioShow | 10:20 AM Jul. 14, 2014
Hobby Lobby Must Not Be Overruled
The Supreme Court's recent decision in the Hobby Lobby case striking down ObamaCare's abortion-pill Mandate has infuriated liberals in Congress, and now they're trying to overrule the Supreme Court. Today, why they must not succeed.


Content type: DocketBlogPost | 1:03 PM Jul. 1, 2014
In The Wake Of Hobby Lobby
In the wake of yesterday's blockbuster Hobby Lobby decision striking down the HHS Mandate, today the Supreme Court granted our petition for review in the case of Gilardi, v. HHS, and denied the government's petition in our case of Korte v
Content type: MediaMention | 2:46 PM Jun. 30, 2014
Newsmax - RNC Applauds Hobby Lobby Ruling as 'On the Side of Liberty'
By Andrea Billups, NewsMax.com The Republican National Committee expressed approval Monday morning after the Supreme Court ruled in the Burwell v. Hobby Lobby case that employers can refuse to pay for insurance coverage for employee contraception.