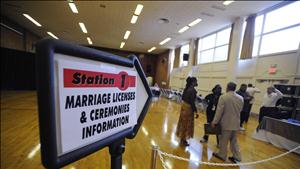 For centuries, marriage has been defined as a union between one man and one woman. Efforts are underway across America to redefine marriage to include same-sex couples. Activist courts and zealous political leaders are engaging in an aggressive campaign to alter the landscape of marriage. The ACLJ is committed to defending traditional marriage in both the political and legal arenas.

Short Legal Brief
Legal Documents
FAQs
For centuries, marriage has been defined as a union between one man and one woman. Efforts are underway across America to redefine marriage to include same-sex couples. It is clear that activist courts and zealous political leaders are engaging in an aggressive campaign to alter the landscape of marriage. It is also clear that most Americans do not favor redefining marriage to include same-sex couples. The American Center for Law and Justice is working aggressively to ensure that marriage remains a core, societal institution that is not redefined to include anything other than a union between one man and one woman.
How does "Marriage Law" Work?
Although for many, marriage is a religious ceremony in which a man and a woman make a covenant of marriage before God, marriage is also recognized and regulated by society as an institution that benefits society through procreation and familial stability. Most law relating to marriage is made at the state and local level. States normally regulate who may get married to whom, whether mandatory medical tests are required, and whether a waiting period is required. A county or city clerk generally issues licenses to marry on the application of a qualifying couple.
There are many social and economic privileges that are typically associated with marriage. For example, among other things, a spouse may inherit automatically in the absence of a will, or receive benefits such as annuities or pension plans. In addition to seeking society's endorsement of their behavior, proponents of redefining marriage have the incentive of obtaining these economic benefits as well.
Are there any federal laws relating to marriage?
In 1996, then-President Clinton signed into law the federal Defense of Marriage Act (DOMA). DOMA is significant for two reasons: first, for the federal government, it defines marriage as being between one man and one woman; second, on the state level, the Act allows states, if they so wish, to refuse to recognize a purported "marriage" that occurred in another state between someone other than one man and one woman.
Multiple lawsuits have been filed against the Federal government claiming that DOMA is unconstitutional. While many of these suits were being defended successfully, in 2011, President Obama and Attorney General Holder announced that they would refuse to defend DOMA. In many of the suits that are still in progress, Congress has intervened, hiring former solicitor general Paul Clement to defend DOMA in the federal courts.
What can be done on the state level?
Since civil marriage is regulated on the state level, the states have been the primary fronts for the defense of traditional marriage. As of 2011, twenty-nine states have passed amendments to their state constitutions that affirm marriage for state law purposes as being between one man and one woman. One state, Hawaii has passed a constitutional amendment that does not itself affirm traditional marriage, but it makes it clear that the state legislature may define marriage as only between one man and one woman. Eleven other states define marriage as between one man and one woman by law, but not through their constitution. The District of Columbia and five other states have redefined marriage in their jurisdictions to include unions between persons of the same sex.
A few of the state constitutional amendments defending traditional marriage have been challenged in federal court by claims that they violate the U.S. Constitution. The ACLJ is dedicated to defeating these unfounded claims in the Courts, and preserving the societal stability supported by strong traditional marriage.
What about a Federal Marriage Amendment?
A Federal Constitutional marriage amendment has been introduced in every session of congress since 2002, but so far has failed to garner the two thirds support of each house of congress that is required by the Constitution. Such an amendment would affirm for the entire nation that marriage is between one man and one woman. The ACLJ supports principles of federalism and the rights of states to be self-governing in most situations. A Constitutional amendment affirmed by two thirds of congress and three fourths of all of the states best preserves both the value of federalism (by giving the states a voice in the matter) and the value of marriage and the family as a fundamental building block of a stable society. Therefore, the ACLJ supports the passage of a federal marriage amendment.
What Can I do to Help?
First, you can pray. Pray for our nation, pray for our leaders, pray for those who wish to undermine marriage in our culture, and pray for the Church that it would be able set an example of what marriage should be. 2 Chronicles 7:14 outlines what God asks of His people: "if my people who are called by my name humble themselves, and pray and seek my face and turn from their wicked ways, then I will hear from heaven and will forgive their sin and heal their land."
Second, on the state level, if your state has not yet passed a constitutional amendment to protect marriage, get involved in supporting such an amendment. Talk with your friends and neighbors, call your state representatives and ask them to consider sponsoring or supporting such an amendment.
Finally, on the federal level, call and write to your senators and your congressional representative and urge them to support a federal marriage amendment. And again, talk with your friends at church and in your community and ask them to support the amendment. If you have financial resources, consider donating to an organization like the ACLJ or a local organization dedicated to defending marriage from the constant attacks of those who wish to defy history and redefine the meaning of this foundational societal institution. Edmund Burk has been credited with saying that, "[a]ll that is necessary for evil to triumph is for good men to do nothing." But, the dedication of a determined few can change the world. Be one of the determined few, dedicated to preserving the societal bedrock of the strong traditional family.
How would a court decision striking down the ban on gay marriage as unconstitutional affect states outside of California?
Because California does not have a residency requirement, anybody would be able to go from any state, get married in California, then go back to their own state and "domesticate" the license, as it's called; in other words, ask for the state to recognize the marriage performed in California. The state may have a Defense of Marriage statute or constitutional amendment, and they may say no. Then, it goes into federal court under the "full faith and credit" clause of the US Constitution, and finally that brings the issue of the definition of marriage to the Supreme Court of the United States.
What are the legalities of Christians speaking out on the issue of same-sex marriage?
Speaking out against a particular activity does not violate church/state separation. The issue of church/state separation will come into play only in a situation where there was an attempt to utilize a state anti-discrimination law to require a church to actually engage in a same-sex ceremony. The way it would come up is this: A particular church has a member that wants to marry someone of the same sex; the church's position is that they don't want to sanction that kind of relationship, and the individual member or members sue the church under the state anti-discrimination laws. We would come back and argue that the church is protected under its free exercise of religion to determine its own doctrine, its own mission, and its own statements with regard to the marriage relationship. And I think we would carry the day on that. I think it would be the most drastic violation of church/state separation for a state to come in and mandate to a church that they must perform a particular wedding ceremony that they find repugnant to their particular denominational view.
Will the many state bans on same-sex marriage stop judges from ruling in favor of same-sex unions?
You know, you would hope it would because it was a clear statement. The numbers are quite overwhelming. In recent years, some of the state referendums passed with twenty percent in favor of same-sex marriage and eighty percent opposed to it. So these have been huge referendums. I wish I could tell you that I thought this would have some impact on the judges, but I think these judges are still going to be dangerous when it comes to these decisions. That's why we're going to have to continue to litigate it in court, and that's why we need good judges in office. While I think we're still going to see a lot of litigation, this was clearly a huge defeat for the gay and lesbian legal groups that thought this was how to move forward on their request for same-sex marriage recognition. I think the lawyers representing those that are advocating for same-sex marriage really misread the public on this.