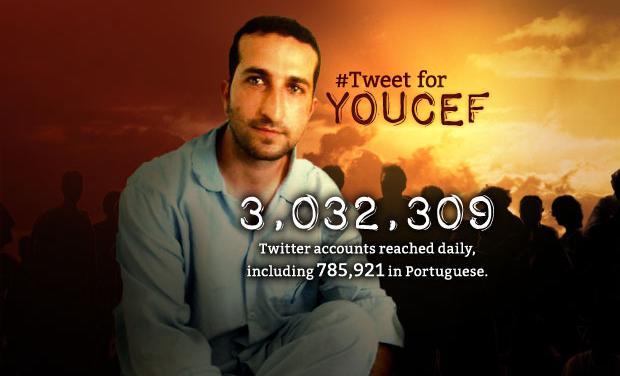 Last week, we told you that Tweet for Youcef was reaching 2.9 million each day, and asked you to help us reach 3 million for the persecuted pastor. Over the weekend, you did just that; thank you.
The ACLJ's Tweet for Youcef campaign is now reaching 3,032,309 Twitter accounts each day with news and information about Christian Pastor Youcef Nadarkhani.
Pastor Youcef's story is now reaching 2,246,388 in English, and through the work of our affiliate in Brazil, the Brazilian Center for Law & Justice, we are reaching another 785,921 in Portuguese each and every day.
If Tweet for Youcef were a Twitter account, it would now be the 216th most followed in the world, just a few thousand in reach behind the White House.
In less than seven months, Pastor Youcef's story, through Tweet for Youcef, has literally travelled around the globe, reaching 3 million Twitter accounts in 234 countries and territories, including over 97% of United Nations member states and 40 Shariah law or majority Muslim nations.
Immense international attention has helped keep alive Pastor Youcef, who has been sentenced to execution in Iran for his Christian faith. Increasing this pressure on Iran is critical as his new September 8th court date quickly approaches.
Please share this news and the infographic below on Facebook and Twitter, and join the Tweet for Youcef campaign as we fight for the life of this innocent man – an adoring husband, loving father, and devoted pastor.