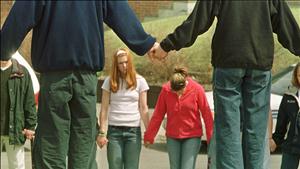 Public school students enjoy free speech rights – including the right to share their faith with their classmates. The First Amendment and the federal Equal Access Act confer important liberties on public school students that no school official may abridge unless the exercise of those rights materially and substantially interferes with school discipline.

Short Legal Brief
Legal Documents
FAQs
Public school students retain their constitutionally protected right to freedom of speech and expression – including the right to share their faith and witness at school.
The Supreme Court consistently has held that students do not "shed their constitutional rights to freedom of speech or expression at the schoolhouse gate." Tinker v. Des Moines Independent School District, 393 U.S. 503, 506 (1969). Students' First Amendment rights include the right to distribute Gospel tracts during non-instructional time, the right to wear shirts with overtly Christian messages and symbols, and the right to pray and discuss matters of religion with others. Further, schools may not prevent students from bringing their Bibles to school.
School officials can only restrict student speech if it will "materially or substantially disrupt school discipline." Id. at 509 (quoting Burnside v. Byars, 363 F.2d 744, 749 (5th Cir. 1966)). "When [a student] is in the cafeteria, or on the playing field, or on the campus during the authorized hours, he may express his opinions …." Id. at 512-13. Thus, students have the right to discuss religious beliefs, and even share religious materials, with their peers between classes, at lunch, and before and after school.
It is well settled that religious speech is protected by the First Amendment of the Constitution, even when that speech is taking place on the public school campus. Widmar v. Vincent, 454 U.S. 263, 269 (1981). Supreme Court "precedent establishes that private religious speech, far from being a First Amendment orphan, is as fully protected under the Free Speech Clause as secular private expression." Capitol Square & Advisory Bd. v. Pinette, 515 U.S. 753, 760 (1995). In fact, the right to persuade, advocate or evangelize a religious viewpoint, implicates the very reason the First Amendment was adopted. Accordingly, the Constitution forbids school officials from censoring student speech because of the religious content of that speech.
It is a constitutional axiom that the distribution of free religious literature is a form of expression protected by the First Amendment. Heffron v. International Society for Krishna Consciousness, 452 U.S. 640 (1981); Lovell v. City of Griffin, 303 U.S. 444 (1938). As the Supreme Court unequivocally held in Murdock v. Pennsylvania:
The hand distribution of religious tracts is an age old form of missionary evangelism -- as old as the history of printing presses. It has been a potent force in various religious movements down through the years. . . . It is more than preaching; it is more than distribution of religious literature. It is a combination of both. Its purpose is as evangelical as the revival meeting. This form of religious activity occupies the same high estate under the First Amendment as do worship in the churches and preaching from the pulpits.
319 U.S. 105, 108-09 (1943) (footnotes omitted).
School officials may not lump a student's right to distribute free religious literature together with more disruptive forms of expression, such as solicitation. In reiterating the First Amendment's protection of literature distribution, the Supreme Court stated, "One need not ponder the contents of a leaflet or pamphlet in order mechanically to take it out of someone's hand, but one must listen, comprehend, decide and act in order to respond to a solicitation." United States v. Kokinda, 497 U.S. 720, 734 (1990) (plurality).
Moreover, school officials may not prohibit students from sharing their faith or distributing religious literature based on a fear that allowing religious speech will offend some members of the community. The Supreme Court has stated that "in our system, undifferentiated fear or apprehension of disturbance is not enough to overcome the right to freedom of expression." Tinker, 393 U.S. 508. Where students wish to peacefully speak about their faith or distribute free literature on school grounds during non-instructional time, there simply is nothing which "might reasonably [lead] school authorities to forecast substantial disruption or material interference with school activities." Id. at 514.
In fact, several courts have held that the distribution of religious literature by high school students is protected speech under the First and Fourteenth Amendments. See Hemry v. School Board of Colorado Springs School District 11, 760 F. Supp. 856 (D. Colo. 1991); Harden v. School Board of Pinellas County, No. 901544-CIV-T-15A, Consent Decree and Order (M.D. Fla. 1991); Nelson v. Moline School District No. 40, 725 F. Supp. 965 (C.D. Ill. 1989); Rivera v. East Otero School District R-1, 721 F. Supp. 1189 (D. Colo. 1989); Thompson v. Waynesboro Area School District, 673 F. Supp. 1379 (N.D. Pa. 1987). As the Supreme Court clearly held in Tinker:
In our system, state-operated schools may not be enclaves for totalitarianism. School officials do not possess absolute authority over their students. Students in school as well as out of school are persons under our Constitution. They are possessed of fundamental rights which the state must respect, just as they themselves must respect their obligations to the state. In our system, students may not be regarded as closed-circuit recipients of only that which the state chooses to communicate. They may not be confined to the expressions of those sentiments that are officially approved.
Tinker, 393 U.S. at 511.
Certainly, it is necessary to acknowledge that school officials have "important, delicate and highly discretionary functions" to perform. West Virginia v. Barnette, 319 U.S. 624, 637 (1943). These functions, however, must be performed "within the limits of the Bill of Rights." Id. at 637. "The vigilant protection of constitutional freedoms is nowhere more vital than in the community of American schools." Shelton v. Tucker, 364 U.S. 479, 487 (1967).
School officials need not fear that witnessing and distribution activities of students might be imputed to them, creating an Establishment Clause violation. This very argument has been reviewed and rejected by the Supreme Court. In Board of Education v. Mergens, the Supreme Court held, as a general proposition, that the activities of student evangelists in a public school do not present any Establishment Clause problems: stating that,
Petitioner's principal contention is that the Act has the primary effect of advancing religion. Specifically, petitioners urge that, because the student religious meetings are held under school aegis, and because the state's compulsory attendance laws bring the students together (and thereby provide a readymade audience for student evangelists), an objective observer in the position of a secondary school student will perceive official school support for such religious meetings. . . . We disagree.
496 U.S. 226, 249-50 (1990) (citation omitted).
Of course, Mergens merely reflects the Establishment Clause's intended limitation, not on the rights of individual students, but on the power of the government (including school officials). As the Mergens Court stated, "there is a crucial difference between government speech endorsing religion, which the Establishment Clause forbids, and private speech endorsing religion, which the Free Speech and Free Exercise Clauses protect." Id. at 250.
Are students allowed to talk about God with each other at school during break times?
There actually are some Department of Education guidelines on this very point. The guidelines clearly say that there can be religious expression by students in the schools without fear of censorship. School facilities are not off limits to students' religious freedom. The school can place no limits on religious speech, Christian discussions, or discussions about the Bible. The Supreme Court's decision in the famous Tinker case* said that students possess the rights of freedom of speech. They don't surrender them at the schoolhouse gate. That includes recess time, on the playing field, in the classroom, as long as it's not disruptive to the school environment. And in a case that I argued at the Supreme Court of the United States several years ago, we won unanimously the rights of minors to engage in political activity, and the Court cited the Tinker standard. We have great resources here on our website that you can take to your child's teacher, including the Department of Education's Guidelines on Religious Expression in Public Schools. I would suggest in your conversation that you approach the teacher with grace and dignity and give her the opportunity to explain the exact situation; get your sense of her perspective. It may just be that the teacher is misinformed about the law. Again, the word Jesus and talking about Jesus is not off limits in the public schools, and the teacher is wrong in this situation if she is saying students can say this. It's not the message we want to send to young people. Talking about Jesus should not be a focal point of embarrassment. *Tinker v. Des Moines Independent Community School District, 393 US 503.
Can my daughter choose her own song for a talent show, even one with a Christian message?
The fact that the guidelines prohibit "offensive language" and the teacher included a ban on references to "Jesus" really bothers me, because it suggests to students that a statement about Jesus or about your belief in God is in the same category as offensive language. Unfortunately this is not a new problem. For over twenty years, I have been handling cases involving talent shows with religious restrictions. Some years ago, the Department of Education issued guidelines that specifically allowed for students to include religious themes in events like a talent show without the fear of censorship. Nevertheless, you're daughter is still experiencing censorship, so there's obviously confusion in that regard among school officials. However, we generally have no problem getting these issues resolved at the district level.
Can my daughter give a symbol of her faith to other children in her class? The teacher said no!
That's a great question. The fact is, your daughter had the right to distribute that material. Student-to-student distribution of literature is protected. If they were allowing the other religious groups to distribute a Menorah or a dreidel (a spinning top that is used at Hanukkah) or whatever it might be, you certainly should have been allowed to distribute the Nativity scene.
Can my daughter, in kindergarten, bring a book that mentions Jesus to school to read to the class? The teacher says no because of a state law.
That's a great question. Part of the U.S. Constitution is called the Supremacy Clause; that means that when there is a state law in conflict with the Constitution, the Constitution is the overriding authority. You might have a state law in conflict with the Constitution, but instead of what the teacher thought, it's actually the other way around. If you had a state law that was prohibiting your daughter from reading the book, the teacher should not have had a problem with that, because the federal Constitution trumps those state prohibitions. The teacher was on the right track in questioning state law, but she got it backwards. What you need to do is let her know that under the Supremacy Clause of the U.S. Constitution, the Constitution is the law of the land, and it trumps a state law that is contrary to existing federal constitutional rights. The Department of Education has guidelines concerning religious expression in schools, and those guidelines say that when you've got a homework assignment, which includes bringing in a book of your choice, a religious book is perfectly allowable. It should have been no problem whatsoever, from a legal standpoint, for your daughter to bring that book in. These rights apply across the board, and we just need to work with the teacher.
How explicit can our church's puppet ministry be in sharing our Christian faith when invited into public schools?
Well it depends on whether or not the events in which you are participating in the public schools are mandatory student assemblies during the school day. If it is after school and it's voluntary, then you can share the religious beliefs of the church and Christian testimonies. If it is during the school day and it's a mandatory student assembly, you must stick to generic character and moral issues that students face and how they should deal with them. You've got to be especially careful when the assembly is mandatory and during the school day. But if it's after school you certainly would have the right to conduct your presentation with a Christian emphasis on it. As long as it's a voluntary after school meeting, you're allowed to include a Christian emphasis without any problem.
Is it legal for teachers to forbid students from handing out gift bags to their fellow students that happen to contain "religious paraphernalia"?
Student-to-student distribution of literature is constitutionally protected. For one thing, there are Department of Education guidelines on the distribution of material with Bible verses on it. The guidelines say that as long as it's student-initiated, it's perfectly okay. I had a case several years ago at the Supreme Court where the Court was unanimous in reincorporating a decision it had previously made saying that students donít surrender their right to freedom of speech at the schoolhouse gate, and that would include passing out what the school called "religious paraphernalia." So, the teacher was absolutely incorrect. Itís not illegal for a student to distribute religious-related material in the classroom. When distributing student to student, having a candy cane, for instance, with a discussion of what the candy cane means and what it symbolizes, is perfectly acceptable-not only under existing court orders and court rulings, but also under the Department of Education guidelines. The same is true with a mint that has a Bible verse on it or a gift bag with "religious paraphernalia". This is just a misunderstanding on the part of the school.
Is my grandson allowed to take a picture of Jesus to share during show and tell at his public school?
It sounds like the teacher doesn't want any religious references made during the show and tell. To be perfectly frank, she's wrong to feel that way. There are Department of Education guidelines that address this issue. Here's what the guidelines say, in a nutshell: As long as a student has the right to select what their project or report would be for show and tell, there shouldn't be any problem at all. And it sounds like this is just a drastic overreaction by the teacher involved here. You shouldn't have this kind of blanket exclusion on religious references. When students-even elementary school students-go to school at the beginning of the school day, they don't surrender their rights to freedom of speech, or freedom of religion for that matter. There's some good law on this issue, but again, those Department of Education guidelines are really critical in dealing with this kind of thing.
My daughter was censored by school officials from suggesting in a school newspaper editorial that students rethink their relationship with God. As a parent, is there anything I can do?
Yes, there is. There's nothing wrong with a school newspaper containing an editorial that suggested students rethink their relationship with the Lord. That's something that's protected within the rights of those students. The ACLJ has had cases involving newspapers at schools before, so this is not something new to us. The bottom line is this: censoring out an editor's comments because they are religious in nature or mentioned God is inappropriate, and a violation of the First Amendment. There are editorials in papers across the United States that are suggesting the same thing as your daughter-and I'm talking about secular newspapers. I don't know what the reason is for the censorship in your daughter's particular case, but it's probably not a very good one.
My third grade daughter's principal said she could read her Bible during reading time, but not with anyone else. Is that true?
The principal was half right - your daughter can read the Bible in school. The Bible is not to be deemed off-limits. The Supreme Court of the United States has said that the Bible is worthy of study even in the school's curriculum (see, for instance, Stone v. Graham); so, certainly for a student selected reading project it really shouldn't be any problem at all. However, the principal was wrong in saying your daughter can't talk about her faith and share the Bible with someone else during non-instructional time. Students can even have prayer before their meals if they want. The Supreme Court has been very clear on this, and there are Department of Education guidelines to address this issue. This also falls under the broader category of religious expression in the school system. And as I've said many times, students clearly enjoy constitutional freedoms in that regard, as long as it is student-led and student-initiated. And a student reading a Bible without interfering with classes or class time fits that category. In December 2003, the Supreme Court ruled unanimously in our favor in McConnell v. FEC, recognizing that students - minors - have rights of freedom of speech and freedom of association, and that's part of what this is all about. The Bible can be used by students during free time, and it can even be read to the class as long as it's student-led-in other words, if the student has the right to choose what their reading material will be, the Bible is a valid text. So, I think what you have in reality is a real misunderstanding as to the law on access. I'm encouraged that we're already halfway there with this principal, so it shouldn't be too difficult to get your child's situation resolved. In your particular case, I think we'll be able to clear it up that you can read your Bible and, in fact, have student-to-student religious discussions without the fear of reprisal.