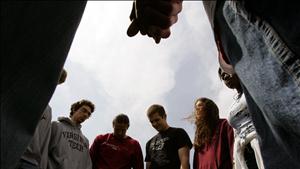 The ACLJ defends students' rights at See You at the Pole events. "[N]othing in the Constitution … prohibits any public school student from voluntarily praying at any time before, during, or after the schoolday." Santa Fe Indep. Sch. Dist. v. Doe, 530 U.S. 290, 313 (2000).

Short Legal Brief
Legal Documents
FAQs
The ACLJ supports the right of students (and in many instances, parents and teachers) to gather on public school campuses to exercise their constitutionally protected right to free speech and religion through prayer, particularly at See You at the Pole events. See You at the Pole is a student-initiated and led prayer movement in which students from elementary schools to colleges gather around their school flagpole to pray on the fourth Wednesday of September. The Supreme Court has consistently upheld the students' right to express themselves on public school campuses, even within group contexts similar to See You at the Pole, stating that "[n]either students [n]or teachers shed their constitutional rights to freedom of speech or expression at the schoolhouse gate." Tinker v. Des Moines Independent Community School District, 393 U.S. 503, 506 (1969).
Students
Student prayer, including prayer at See You at the Pole events, is a protected form of speech that school officials may not ban. In Board of Education v. Mergens, the Supreme Court interpreted the Equal Access Act and held that Bible clubs and prayer groups have the right to meet on public secondary school campuses that receive federal funding during non-instructional time to the same extent that any other non-curricular clubs are permitted to meet on campus. 496 U.S. 226, 247 (1990). Thus, if such federally funded schools permit non-curricular clubs such as Interact, Zonta, 4-H, Chess Club, and other service-type clubs to meet and hold events on campus, those schools must also permit See You at the Pole events to the same extent.
So long as a student's conduct does not "materially or substantially interfere with school discipline," Tinker, 393 U.S. at 504 (quoting Burnside v. Byars, 363 F.2d 744, 749 (5th Cir. 1966)), students may gather together on campus for prayer even if no Bible Club has been officially recognized. Public school students may also bring Bibles, wear Christian t-shirts, and even share their faith, including passing out pamphlets and tracts about Christ to peers on campus. See Murdock v. Pennsylvania, 319 U.S. 105, 108-09 (1942) ("[D]istribution of religious tracts is an age-old form of missionary evangelism . . . . This form of religious activity occupies the same high estate under the First Amendment as do worship in the churches and preaching from the pulpits."). Moreover, the U.S. Department of Education requires every public school that receives federal funding to certify "that it has no policy that prevents, or otherwise denies participation in constitutionally protected prayer in public schools," including "'see you at the pole' gatherings before school." U.S. Dept. of Educ., Guidance on Constitutionally Protected Prayer in Public Elementary and Secondary Schools 68 F.R. 9646 (Feb. 28, 2003) (hereinafter "Guidance"), available at, http://www.ed.gov/policy/gen/guid/religionandschools/prayer_guidance.html (last visited Mar. 11, 2011).
School officials, however, may impose reasonable, non-discriminatory regulations that govern the time, place, and manner of student activities. See, e.g., Chandler v. Siegelman, 230 F.3d 1313, 1317 (11th Cir. 2000) (Government "may neither prohibit genuinely student-initiated religious speech, nor apply restrictions on the time, place, and manner of that speech which exceed those placed on students' secular speech."). Such regulations cannot target the religious content of the student activity, must be narrowly tailored to serve a significant government interest, and are required leave open other alternative forms of communication.
Teachers
While teachers, like their students, do not "shed their constitutional rights . . . at the school house gate," they do represent the school when in the classroom or at school-sponsored events and, therefore, should take care to avoid Establishment Clause violations. Tinker, 393 U.S. at 506. Thus, teachers, in their capacity as school officials, may not actively participate in, lead, or discourage a student religious meeting. To determine if a teacher has a right to attend events such as See You at the Pole, several factors, including the time of day and manner of participation, must be taken into consideration. If the event occurs during "non-contract" time, teachers should be able to participate in the event without violating the Establishment Clause so long as they make it very clear that they are present in their roles as citizens rather than in their official capacities.
Parents
Parents and other adults should be allowed to participate in See You at the Pole events to the same extent that adults may attend on-campus events held by other student groups. See, e.g., Gold v. Wilson County Sch. Bd. of Educ., 632 F. Supp. 2d 771 (M.D. Tenn. 2009) (court ruled in favor of plaintiff parents on their motion for preliminary injunction where school censored See You at the Pole posters; school opened a limited public forum for those "who wish to advertise events pertinent to students' interests," id. at 788, and school's exclusion of religious messages "stifled religious speech . . . [and] were neither reasonable nor viewpoint neutral," id. at 792). However, as schools are usually granted broad discretion to develop school visitor policies so long as they do not discriminate on the basis of religion, parents should be sure to become familiar with and comply with those school policies.