Recruit for your cause. Make a difference. Track your impact.
Millions of Americans have joined the ACLJ in taking a stand on issues related to life, liberty, religious freedom, national security, and more. When thousands upon thousands speak with one voice, there is a greater opportunity for change. By taking a stand with the ACLJ, citizens have directly impacted our laws and our culture for the better. Please use our petition drive tools to find your cause and encourage others to add their voice in the fight.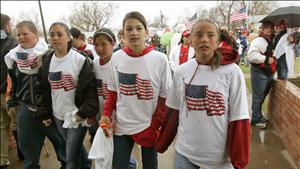 2/28/2014
Committee to Protect the American Flag
68,386
have signed online

More
Recent Petitions
No Government Monitors in Newsrooms

88,832

have signed online

Hands Off the First Amendment

97,097

have signed online

Stop the Obama Administration Stonewalling; Demand Justice

42,550

have signed online

Petition to End Unconstitutional Executive Orders

142,642

have signed online

Clemency for Pastor Saeed

189,537

have signed online

Stop Funding the United Nations

60,144

have signed online
Didn't find a petition on your topic?